The real aquarium - LWP
1.14
Aquarium Live Wallpaper – Transform Your Phone Screen into an Aquarium
If you are an admirer of marine life and aquatic plants then this aquarium live wallpaper is an ideal choice for you. The Real Aquarium – LWP is a nice app which allows you to transform your phone's screen into a real aquarium full of various species of fish. It gives you the opportunity to have various different types of fishes swimming around on your home screen, turning your phone into an aquarium. There aren't only fishes that you will get to see, though. You will see different aquatic animals in this live wallpaper. Seeing them swimming around in the clear water will instantly relax you. At the same time, it will also give a lively look to your phone's desktop as well.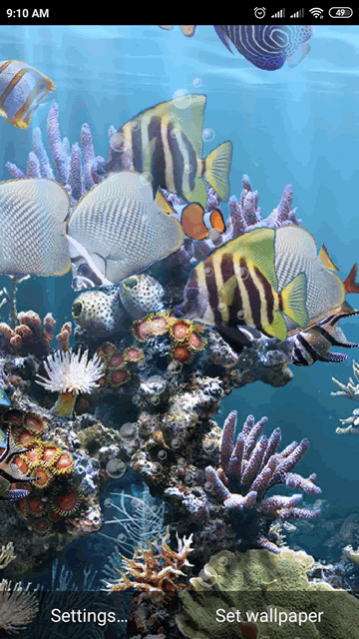 The Real Aquarium – LWP combines simple design and layout with a user-friendly interface. This combination ensures that using this app isn't difficult at all. You can easily apply it on your Android phone. There are detailed instructions available which can help you in setting it as the live wallpaper for your device. They can help you in applying this aquarium live wallpaper. However, do keep in mind that there are separate instructions given for each version of Android. You need to follow those that apply to your device. Following the instructions correctly will direct you to the 'wallpaper preview' screen. You will find two options there. The one on the left is labeled, 'Settings' while the one on the right is labeled, 'Set Wallpaper'.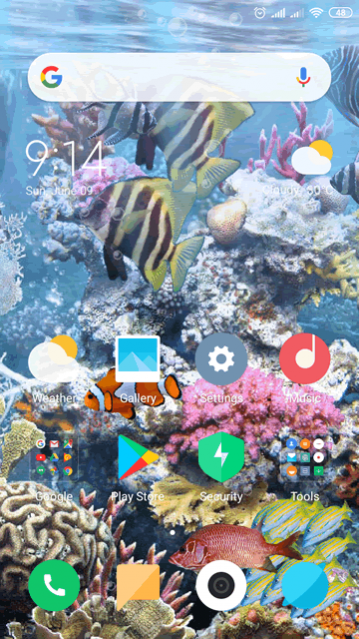 This aquarium live wallpaper offers a lot of customization options to you. For instance, you can change the background scenery of the live wallpaper. There are several different marine sceneries that can become the background for your aquarium. Some of the sceneries show different corals while others depict a sunken ship. You can change them in the 'Settings' menu. Before applying the wallpaper, you can see a preview of it to see how it would look. To apply the live wallpaper, you need to click the 'Set Wallpaper' button. It would immediately replace the previous wallpaper you had with this new live wallpaper. When this live wallpaper is applied, you can move the fishes around by tapping on the screen.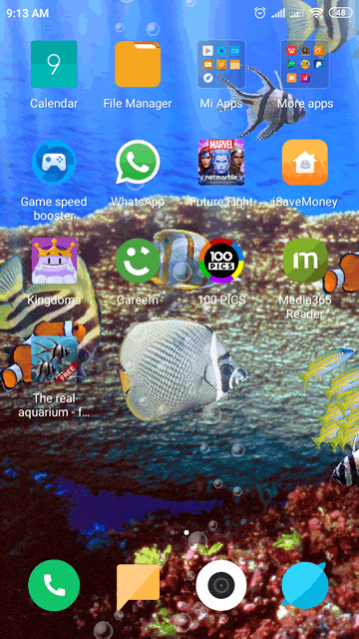 Aside from the sceneries, The Real Aquarium – LWP also lets you choose the number of fishes of every species that you want to see on screen. You will find this option in the 'Settings' menu. Just slide the bar to the right to increase the number of fish or to the left to decrease their number. The 'Settings' menu also lets you decide whether you want to see bubbles of water on the screen or not. Moreover, there is also the option to have rays of light being shown in the water from above. You can enable or disable the bubbles and light rays by checking or unchecking the boxes present in front of them in the 'Settings' menu. Despite showing high-quality images, this live wallpaper doesn't drain your battery that much.
Features:
User-friendly interface
Simple design and layout
Easy to apply on the home screen
Lots of different customization options
Various species of fish to choose from
Decide the number of fish on the screen
Multiple marine sceneries on offer
Enable light rays or water bubbles
Conclusion:
The Real Aquarium – LWP is an app which will primarily appeal to people who love fishes and are interested in having an aquarium. It offers them the chance to bring the aquarium to the home screens of their Android phones in the form of live wallpaper. It is an excellent aquarium live wallpaper and you should definitely have it on your phone.
---
Add a review
Tell us your experience with
The real aquarium - LWP
1.14
RELATED PROGRAMS
Our Recommendations
---
---
---
---